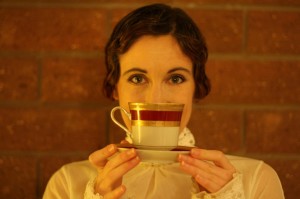 Great Britain is honoured and privileged to announce that Gail Carriger shall be setting foot on our shores this April – for a gloriously grand UK tour. Orbit Books shall also be launching a frightfully wonderful competition to celebrate – where you can win this enchanting teapot. Read on for more . . .
For years Ms Carriger has resided in the colonies, supping on the finest of infusions imported from London, wearing the tiniest of hats and penning the novels which have brought her fame and fortune throughout the Empire: the Parasol Protectorate novels – most recently Timeless (UK | US | ANZ).
Yet now the time has come for this illustrious lady to return to the British Isles – and to greet the legions of fans waiting to pay tribute to her magnificent work.
You are all cordially invited to attend several splendid events taking place over the course of a week in April:
Sunday 8 April: Eastercon, Heathrow, London
Those of you attending this year's convention will be delighted to hear that Gail shall be appearing on the following charming panels:
'Meet the new king (same as the old king)' – 11am, Room 12
'You got your robot elf sex in my SF' – 3pm, Commonwealth
'Multicultural steampunk' – 9pm, Room 38
Monday 9 April: Foyles, Shaftesbury Avenue, London, 6.30pm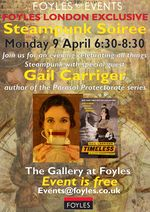 In coordination with the most honourable chaps over at Pornokitsch, Gail shall be hosting an exclusive steampunk soirée at Foyles bookshop in Central London. Climb into that corset, pull out your pocket watch and buff up your brass goggles – and pop along for a tipple or two and to get your book signed by her fair hand. This event is free but ticketed, so please send an email as soon as possible to [email protected] to obtain a cherished spot on this exclusive guest list.
Friday 13 April: Waterstones, Nottingham, Bridle Gate, 6.30pm
Gail shall be speaking to a thoroughly privileged throng for another steampunk extravaganza at the Waterstones in Nottingham. Special guest Jema Hewitt (author of Steampunk Emporium) and friends will also be frequenting the event in full costume. The evening shall commence – as is only right – with Pimm's & cake at 6.30pm for a 7pm start. This event is ticketed and costs £5, or £3 if you hold a Waterstones card, so please purchase them here in advance.
* * *
Now on to the competition. We are delighted to announce that whilst on her Grand UK Tour, Gail shall be signing three very special items for us to give away as prizes. The first prize is this darling teapot, and the two runner-up prizes are these twee tea strainers – all from the lovely shop Oliver Bonas.
All you have to do to be in with a chance of winning these prizes is send us a photo of yourself with a parasol or umbrella in a darling pose and send it to [email protected] This is an Orbit worldwide competition, and we shall be posting the entries on the site. Ms Carriger herself will choose the winner and runners-up herself at the end of her Grand UK Tour on 13 April. See terms and conditions here.
And to show you just how easy it is, here are Orbiteers Anna Gregson, Emily Rowland, and Rose Tremlett with a shining example (and no fear, they have honourably excluded themselves from winning):
Best of British, and the Empire salutes you!
Tags:
Event
,
Parasol Protectorate
,
TIMELESS